Date: September 9, 2003
Chair: Jim Whitely
Treasurer: Sam Heffner
Location: J. P. Morgan Chase
Speaker: James C. Spackman, President/CEO of Prudential International Insurance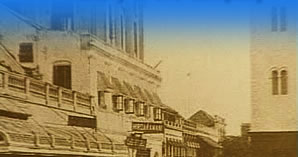 Betty Ann and I are back in Concord, but our thoughts and memories are still on the 49th Floor of 270 Park Avenue where we gathered on Tuesday the 9th of September.
We had a fine turnout of over thirty members and guests. Jim Whitely and Sam Heffner, as usual had things beautifully laid out and ready for us all. There was a great mix of "old timers," real workers, and new members so the conversation flowed without interruption.
Dave Anderson opened the meeting with a run down on the current initiatives we have been discussing that have resulted in the in some major moves. With great thanks to Bob Sharp who has handled our web page magnificently, that responsibility will be moved over to an "institutional" provider. In anticipation of Sam and Donna Heffner's relocation to Florida, a firm in Darien that is close to the OAH mail box has been persuaded to handle the mail processing. Then, David outlined the scope and purpose of the scholarship fund. He concluded with a pointed exhortation for us to work towards a goal of having more than the 30% of the membership paying their dues!
After that, our speaker, James C. Spackman, President and CEO of Prudential International Insurance spoke to us on his views regarding the situation on the Korean peninsula. It was a very broad based address reflecting his intimate and continuing knowledge of Korea dating from his youth. Noting a number of particular disparities between the South and North, I would say that Jim was cautiously optimistic about the future and felt that the multilateral negotiations were on track.
You know, these gatherings are really a great experience. We can certainly say that they are well worth even an arduous, lengthy, journey (picture a smile here!) from such places as the Boston area to be together again!
Rick and Betty Ann Wheeler